2. Foods that harm. foods that promote health: A biochemical and nutritional perspective in health and disease prevention

&copy 2021 Brown Walker Press / Universal Publishers, Inc.
Download this e-book (password required)
Available to those who bought the print or pdf version of the book. Proof of payment may be required.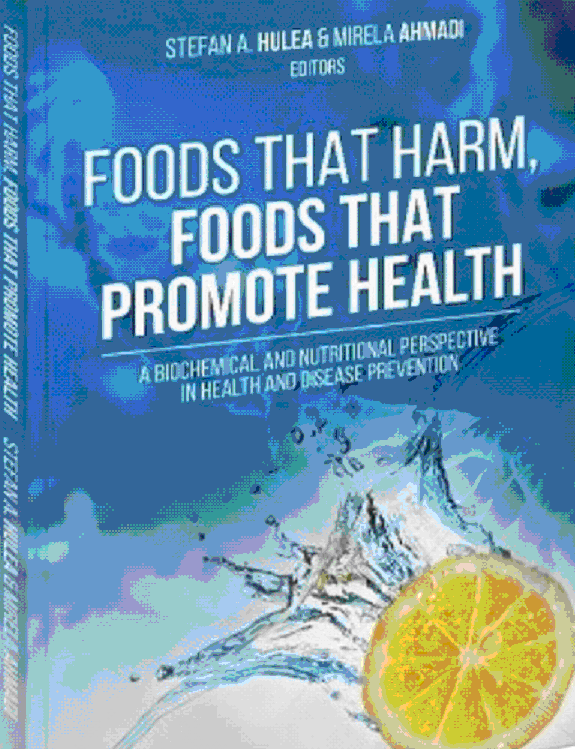 Publication date: August 23, 2021
This book looks at fresh (fruits and vegetables) and processed foods from a biochemical and nutritional perspective, as well as the relationship between their content in micronutrients and phytochemicals and the major killer diseases such as cardiovascular disease, diabetes and cancer. The book also pays special attention to two important topics not addressed by other texts on nutrition, namely low-grade systemic inflammation and caloric restriction, which were consistently shown to impact health and disease. Caloric restriction can help in weight reduction programs and in slowing down age-associated degenerative disorders.

In contrast to other texts on a similar topic, this book is a blend of nutrition, biochemistry and pathology. More specifically, we discuss the molecular mechanisms involved in the pathogeny of cancer, heart disease and metabolic syndrome with a constant focus on the relationship between diet and these conditions.

The book will benefit medical students, residents, family doctors and physicians who practice medical nutrition therapy, nutritionists, biomedical researchers, as well as those interested in good health and disease prevention. Readers will learn that whole foods diet is the best bet in the prevention of age-related degenerative diseases as well as an essential aid in the treatment of several human disorders.

If you wish to see the Table of Contents click here

The electronic version (html) will be updated as new evidence comes to light.
Ebook updated on March 30, 2022.